| | | |
| --- | --- | --- |
| | | |
| A historic tombstone | | The City of Suqian |
General Information
---
Suqian is a city with a cutural history of 2,500 years. The earliest use of the name started in 762 A.D., Tang Dynasty. In later century, the jurisdiction was changed or renamed a number of times or even abandoned sometimes when the turnover of a dynasty took place. In 1945 during the Republic of China, Suqian as a county jurisdiction was restored again but the scope of its jurisdiction varied. The archaeological findings in 1954 in the Town of Shuanggou brought its human history of the region back to the New Stone Age, 40,000-50,000 years earlier. There are numerous historical or cultural relics unearthed since then. The current jurisdiction as a prefecture city started in 1996. Four counties, including Suqian, Shuyang, Sihong and Siyang, were separated from the previous Huaiyin profecture city and formed a new jurisdicture, Siqian prefecture city. The city is one of Jiangsu thirteen prefecture-level cities which administers two old municipal districts and 3 county-level counties. The city is well-known for its alcoholic products, tracking back to the Ming Dynasty, which had won many national and international medals. Two famed brands, Yanghe and Shuanggou, are now on the top among their popularity. It is never forgotten for its national reputation as a "Flower Town in China", awarded to Shuyang City, under the jurisdiction of Suqian. When two English teachers from England arrived at the town in 1990s to voluntarily teach English in a local middle school, Charlie and Chris described Suqian as a developing city in any sense of the word. Years later, the city has dramatically developed into a new industrial and tourist center.
Geography, Resources and Climate
---
Situated in the Jiangsu Northern Plain, Suqian City borders six county-level cities, including Sihong, Siyang, Shuyang, Xinyi, Pizhou and Suining. As a prefecture jurisdiction, Suqian has four prefecture neighbors, including Xuzhou, Lianyungang, Huai'an, Yangzhou. The city flanks Anhui Province on the west. The city is located on the North Jiangsu Plain, with a highest elevation of 71 m over sea level and the lowest 2.8 m only. The elevation is gradually reduces along northwest to southeast. The region involves three fourths of the total area of the city. Suqian is abundant for water resource and the water surface area is close one third of its total land mass. There are two freshwater lakes in Suqian, Lake Hongze, which is one of the four largest freshwater lakes in China, and Lake Luoma. Four rivers run through the city, including the the Grand Canal, Huaihe River, Yihe River and Suhe River. Other resources are rock salt, crude oil and natural gas. The lakes, Hongze and Luoma, are under well protected from contaminating. More resources include minerals of quartz, phosphorus, cooper, iron, etc. The city is located in a temperate zone with an oceanic monsoon climate with four distinct seasons. Annual average temperature is 17°C and annual average precipitation is around 900 mm, less than its neighbors.
Jurisdiction
---
Suqian jurisdiction includes 5 county-level divisions, of which two are districts, three are counties. The districts are the old urban areas of Suqian while the three counties are recently designated as county-level districts being considered as suburbs and governed by the Suqian city administration. The special industrial zones are specifically designated as new investment areas. Sucheng District. Suqian administers 110 towns and townships, and 1,418 villages. The municipal government is stationed in the Sucheng District.


Area and Population
---
The jurisdiction has a population of 5.15 million. The physical lans mass is 8,555 square kilometers, with a water surface area occupying one fourth of the land.
Economy, Industry and Environment
---
Suqian was traditionally considered as a farming land and its fertile soil and moderate rainfall make the city one of Jiangsu's agricultural areas. The agricultural products mainly include rice, cotton, vegetable and poultry. With its abundant water resources, Suqian has a reputation for its aquatic products, including crab, shrimp, silver fish and aquatic vegetable. The city is putting more efforts to boost its green agricultur and forest coverage. The agriculture income now occupies 25% of the city's total GDP. The investment and capital funds accelerate the city's economic expansion and urbanization. New industrial sectors boom, including food and spirit manufacture, textile, construction, electronic, chemical and machinery. The most important food manufacture is alcoholic beverages. The sector has a production history of 400-500 years, tracking back to the Ming Dynasty. Two well-known brands of liquors, Yanghe and Shuanggou, have won many national and international medals. Silk export is recently intensified. One can never forget its national reputation as a "Flower Town in China", awarded to Shuyang County. With these fabulous botanical products including flowers, garden trees and bonsais, the county creates a new opportunity for both business and environment protection. Economic growth and environmental conservation have always seemed like two different approaches. Many investment projects in the city have become significant in environment contamination. The local government has been putting stiff environmental policies into practice and has spent significant funds over years to protect its ecosystem.
Transportation and Tourism
---
Suqian had its first railway, Xin-Chang Railway, in 2005, which runs through the city from its north to south. Five major highways/expressways, including Jinghu (Beijing-Shanghai), Ningsuxu (Nanjing-Suqian-Xuzhou), Suxin (Suqian-Xinyi), G205 National and 305 Provincial Highways, connect the city to all its neighbors and other provinces. Suqian does not have its own airport but is convenient to use Xuzhou Guanyin Airport (60 km), Lianyungang Baitabi Airport (100 km), and Nanjing Lukou International Airport. The Grand Canal flows through the city and lakes such as Hongze and Luoma add their natural beauty to its environment. Suqian is a great city for tourists. There are hundred more historical relics, parks or cultural sites to visit. The most famous tourist destinations include Xiacaowan New Stone Age relic, Zhangshan Hill Forest Park, Luoma Lake Scenic Region, Emperor Qianlong Travel Palace, xiangwang Memorial House, etc.
Education
---
Suqian has well instituted compulsory primary education system and the secondary schools achieves significant graduate rate. Suqian College is an unique higher learning institution in this city and has departments for computer, foreign language, civic engineering, machinery, etc.
Culture and Folklore
---
Suqian occupies a land where was once the critical territory for an ancient Chinese kingdom, the West Chu State, and was the birthplace for its king, Xiang Yu. In China's history, this land was also an important battlefield where emperors and kings fought their enemies. You would see these heritages, legends, and more when you are there.
Notable Personage
---
Xiang Yu, the King of the West Chu State, was a well-known historical hero in the Chinese history. He become famous not from his success but from his failure when fighting with his enemy. His beloved concubine, Yu Ji, committed a suicide before the king killed himself.
---
Back to home page
Advertisement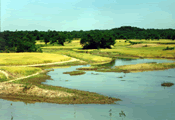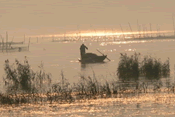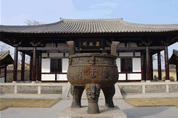 Advertise
Web Services
Live Poll
---